The Roxy Penthouse Experience
In signature Roxy style, it's time to celebrate. Come experience The Roxy Penthouse with an all-inclusive special offer where everything's considered.
A Cinematic Space Where Your Alter Ego Can Have Some Fun
Surround yourself with luxury and entertainment this summer with our exclusive package that includes:
– Penthouse accommodations with access to a private rooftop terrace.
– A welcome bottle of champagne and an in-room flower arrangement to complement your stay.
– Breakfast and Dinner for two at Roxy Bar, the living room of downtown New York that features nitely live music, seasonal American fare, and hand-crafted cocktails.
– Two nightly tickets to Roxy Cinema, our jewel box Art Deco-inspired cinema specializing in first-run independent films, rare archival prints, and 35mm cult classics.
– Reserve The Roxy Penthouse Experience or request a tour by contacting Kay Todmann, Guest Relations Manager, at 212-519-6684 or ktodmann@roxyhotelnyc.com. Rates start at $4,000 per night.
This Must Be The Place
Perched on the eighth floor of The Roxy Hotel in Tribeca, New York, you will find The Roxy Penthouse and Terrace. The interior is imagined by the renowned interior designer and master of modernism, Bill Sofield. The Roxy Penthouse joins his body of work including clients such as Tom Ford, Gucci, YSL, and The SoHo Grand Hotel. 
Bill envisioned the penthouse to be the ideal retreat from the hustle and bustle of city life, while also serving as a sumptuous pied-a-terre for entertaining, and the Penthouse achieves just that — giving guests the best of both worlds. This exclusive space is the epitome of modern glamor with a downtown edge. 
Watch the sunset over the downtown Manhattan skyline while you enjoy the perks of a private terrace in a luxury setting. The gorgeous rooftop terrace offers 1,015 square feet designed by Rebecca Cole.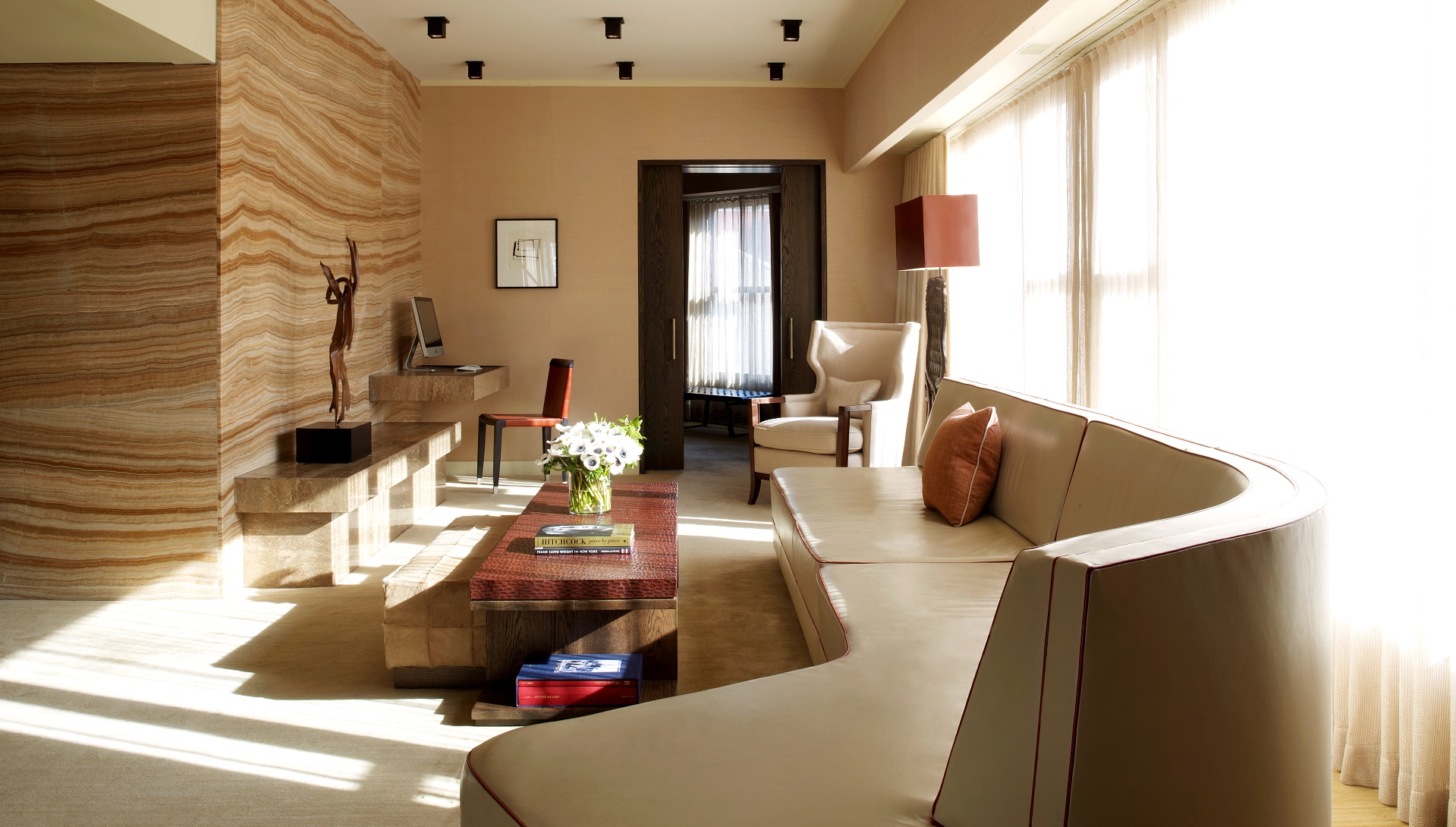 For Round-The-Clock Revelry Or Rest
Located on the eighth floor of The Roxy Hotel, guests have sweeping views of the city and the pleasure of enjoying the fresh outside air. The terrace offers ample seating including sectionals, chaise lounges, dining tables, and chairs. Enjoy an alfresco brunch or lounge under the stars with a cocktail. 
For those who prefer to be inside, the spacious interior of the penthouse suite includes a living room, dining room, and a separate bedroom featuring blonde wood floors and floor-to-ceiling windows. Relax on the comfortable leather sectional and enjoy a wine with friends, or play a game of cards at the dining table.
Guests will have access to the following:
–  A TEAC turntable and curated vinyl selection to take your night up an octave
–  A 60-inch plasma TV 
– Surround sound with a centrally controlled music system
– Dedicated wifi
– A Fully-stocked bar 
– Versatile seating options 
– A plush king bed swathed in 100% Egyptian cotton linen, and custom cashmere throws.
Reserve The Roxy Penthouse and Private Terrace for a Private Event
The Roxy Penthouse and Terrace is the ideal venue for intimate receptions of 40 to 80 people. Host your private event and take advantage of this exquisite NYC backdrop.
For booking inquiries please contact Events@RoxyHotelNYC.com or speak to our catering and special events team at 212-519-6789.
Whether you are hosting an intimate gathering or a larger crowd, The Roxy Hotel proudly offers a diverse selection of private event spaces to suit your needs. Consider The Green Room for pre or post-screening cocktails for a small crowd, or The Django, which features two bars, an open dining space, and a stage for live performances.
You May Also Like