Don't Drop the Ball On Your Holiday Party This Season
Those with a finger on the pulse know The Roxy Hotel is the place to be this holiday season. Situated on a cobblestone corner on the border of SoHo and TriBeCa, downtown's most wildly entertaining hotel will imbue a soulful, spirited vibe to any holiday party, whether it's an intimate holiday gathering with friends or a large corporate event.
The Scene is Set
The smooth sound of a saxophone. The understated polish of barmen in hand-tailored waistcoats. Setting the stage for downtown culture, The Roxy Hotel features a mid-century modern aesthetic and an elegant—and electric—atmosphere that will captivate your guests from the moment they step under our neon marquee.
Deck the Halls
With festive lights and lush garlands, The Roxy Hotel will be decked to the nines with classic holiday décor, ensuring a joyful backdrop for those who burn brighter this festive season.
Entertainingly Yours: Versatile Spaces for Every Occasion
The Roxy Hotel is home to some of the most exquisite and unique holiday party venues downtown NYC has to offer, each with its own character and distinctive charm. Here's a peek into each one.
The Django Jazz Bar
Channel Hemingway and Fitzgerald at this unique event space with red brick walls and vaulted ceilings inspired by the classic Jazz Age Parisian boîtes. The Django features two bars and an open dining space in between, offering plenty of space for up to 200 guests to mix and mingle over handcrafted cocktails. The pièce de résistance? A stage with a state-of-the-art Meyer Sound system for toasting employees and celebrating achievements, making it an ideal corporate event venue.
The Django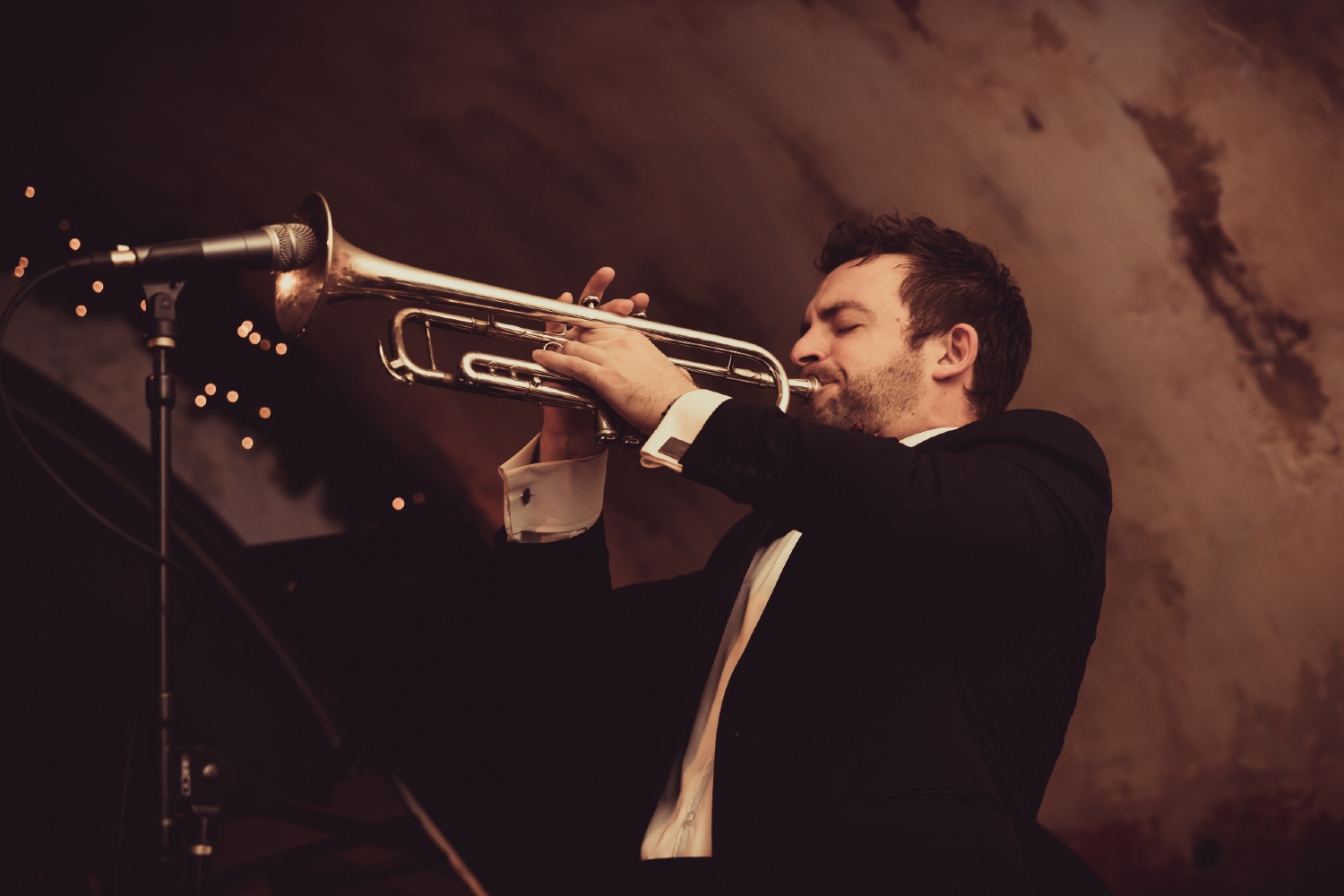 Roxy Cinema
With its plush velvet seating—in holiday-red, of course—state-of-the-art projection and surround sound, The Roxy Cinema is a charmingly eclectic choice, and one that can accommodate 118 guests. Share company milestones, goals for the upcoming year or even blooper reels on the oversized screen at an end-of-year holiday party. Guests can mingle by the concession stand, and enjoy beer, wine, popcorn and other tasty snacks before, during and after the screening. Insider tip: Make it a double feature and book The Django next door for light bites and conversation after your screening.
Roxy Cinema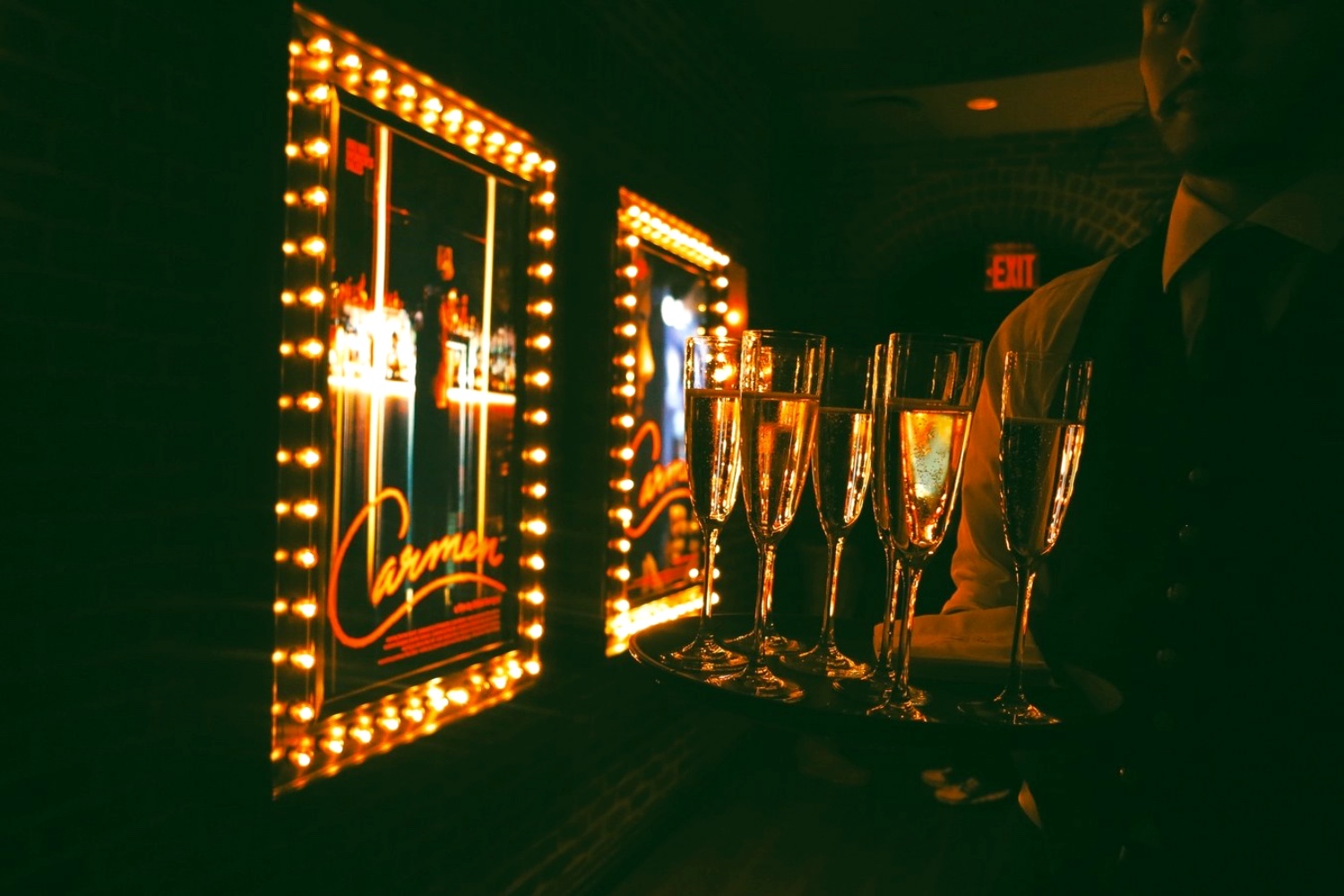 Roxy Bar
The living room for the downtown creative set, Roxy Bar serves as one of the most dramatic corporate event venues in NYC with its soaring 8-story atrium. Guests can sip festive cocktails and enjoy appetizers and shared plates, while kicking back on plush leather sofas and taking in nightly live jazz from the stage. For additional space, book the adjoining Oyster Bar with its glamorous Art-Deco bar chairs and celestial wall coverings that lend a magical touch. Our largest event space, Roxy Bar can hold up to 350 guests.
Green Room
With a nod to the theatrical traditions of music and film, the Green Room is a luxurious small-scale space for hosting an intimate holiday gathering for up to 14 guests. Outfitted with the latest tech, versatile seating, a wet bar, and a kitchenette, the Green Room is your everything-goes holiday playroom, complete with blackout curtains for the street-facing windows to give you the ultimate privacy.
Roxy Hotel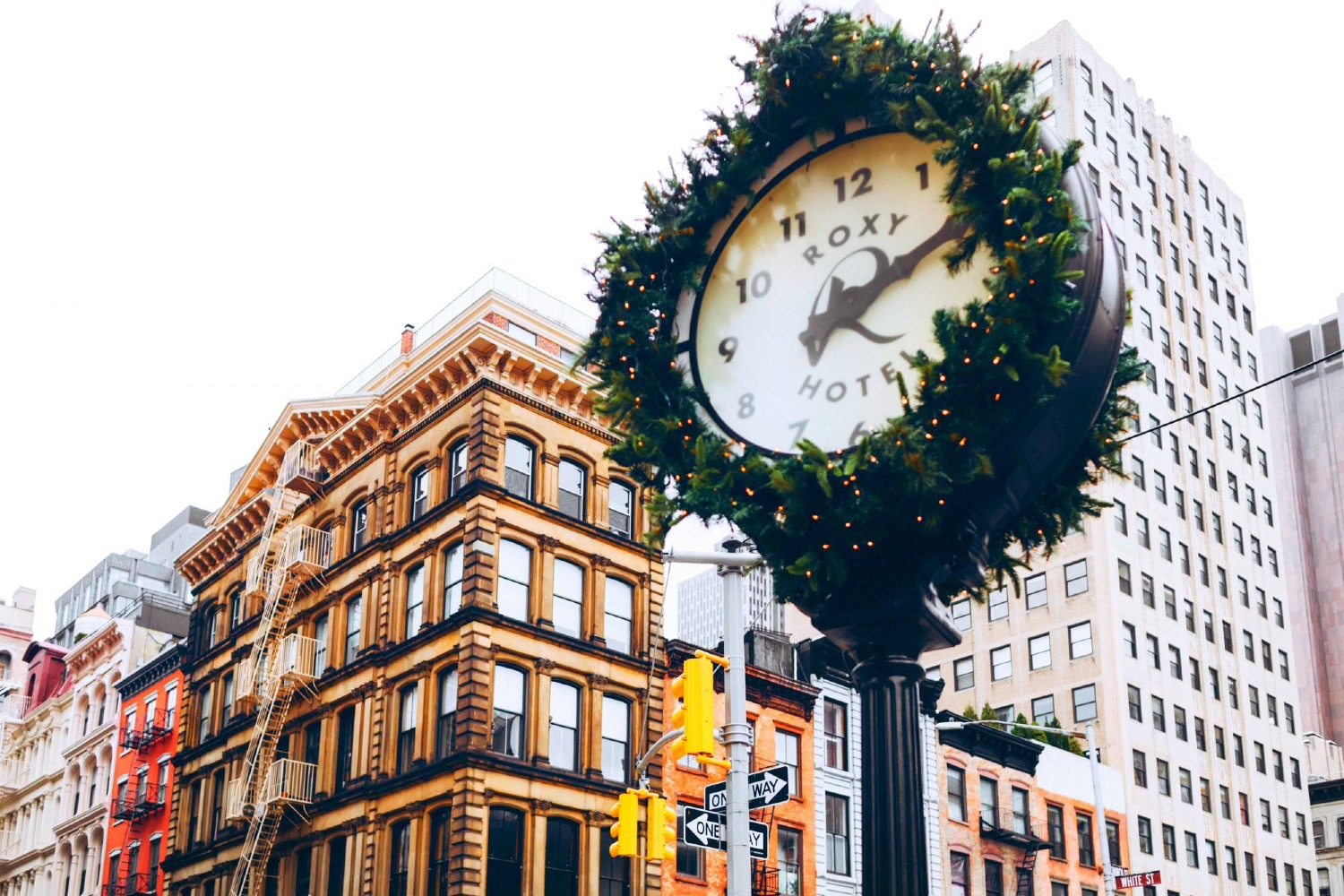 Additional Options at The Soho Grand
For those looking to explore additional holiday party venues, more options abound at our sister property, Soho Grand Hotel. For larger events, consider The Grand Bar and Salon, which can host up to 300 guests in a high-ceilinged space anchored by a polished oak bar with a gold marble top. The sophisticated Club Room melds Downtown style and old New York gentility for gatherings of up to 150, and the Castelli Room can accommodate events for up to 80 in a handsome space adorned by hand-painted walls and mirrored columns.
Holiday Menus and Catering Options
Always lively, always large-hearted—at The Roxy Hotel, we're well-versed in planning anything from intimate gatherings to large corporate events. Whether you want passed appetizers with a signature cocktail, towering plateaus of fresh bivalves with Champagne, or a three-course wine-pairing dinner, we'll work with you on holiday menus and catering options so you can focus on what's most important: keeping it merry and bright.
Book the Holiday Venue That Will Get Everyone Talking
Experience winter holiday magic with a downtown edge at The Roxy Hotel and party among the best of them. For booking inquiries, please contact Events@RoxyHotelNYC.com or speak to our event sales team at 212-965-3500.
You May Also Like